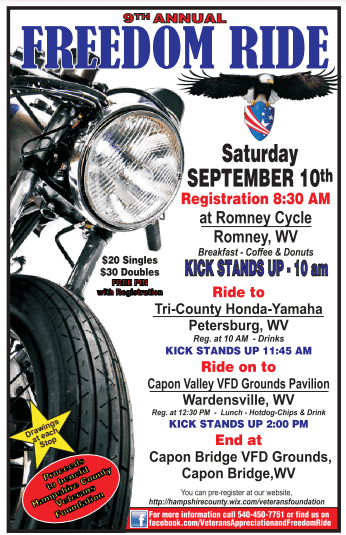 Freedom Ride
Freedom Ride 2022 will begin with registration at 8:30 am at the Romney Cycles in the Industrial Park in Romney, WV.
Sign up is $20 single and $30 double. FREE Freedom Ride pin with registration!
FREE Donuts and coffee will be served for breakfast at Romney Cycles. There will be FREE Drawings at each Stop.
Kickstands up at 10:00 am.
Traveling on to Tri-County Honda and Yamaha in Petersburg. The Riders will receive FREE snacks and drinks.
From Tri-County, the Ride will continue to Wardensville to the Capon Valley VFD Grounds and Riders will receive a FREE lunch .
The Freedom Ride will continue from Wardensville to Capon Bridge VFD Grounds for the Ride's conclusion and will join the Veterans Appreciation Festival.
Freedom Ride is an annual fundraiser for the Hampshire County Veterans Foundation and the proceeds are used to help local area (covering seven counties) Veterans needing assistance.